HANDCRAFTED IN CALIFORNIA
In 2014, we opened our first-ever US-based guitar production factory. Located in North Hollywood CA, our new facility allows us to create instruments that continue ESP's tradition of excellence in guitar building. This is where we craft our acclaimed ESP USA series of guitars. These instruments are 100% made in the USA, and are among our very best we've ever offered. Available through a select group of specialized musical instrument retailers known as the ESP Platinum Dealers, ESP USA instruments make use of our classic designs, and rank among the most detailed, finely-crafted guitars that proudly bear the ESP name. Here's a brief look at each of our currently-available models.
It may have that classic single cutaway guitar shape, the ESP USA Eclipse is unlike any guitar you've ever played. It comes in three finish choices: Sapphire Black Metallic, Tea Sunburst, and Vintage Natural and is available in either Seymour Duncan APH-1 passive or EMG Metalworks 57/66 active pickup set configurations. But that's just the tip of the iceberg. Each guitar uses a hand-selected, premium grade figured flamed maple top over a chambered mahogany body. It offers some classic ESP performance features that include set-thru-neck construction, a 305mm (12") fingerboard radius, a thin-U neck shape, and a 42mm bone nut. You also get super high-end components like Sperzel locking tuners, TonePros locking bridge and tailpiece, and more. However, it's the build details like its beautiful body, neck, and headstock binding, that make this Eclipse shine highly above your expectations.
For many years, the Horizon has been known as a guitar designed for serious players. With the new USA Horizon-II, musicians of every genre from metal to jazz fusion will appreciate the fine craftsmanship that goes into each guitar. Available in two translucent finishes that look spectacular over hand-chosen quilted maple tops — Vintage Natural, and See Thru Black Sunburst — and in a solid Sapphire Black Metallic finish, the USA Horizon-II offers premier-class features such as set-thru construction with a smooth neck heel and an arched top body contour and is available in either Seymour Duncan SH-16/SH-2 passive or EMG Metalworks 57/66 active pickup set configurations. The premium components used include Shaller Strap Locks, Sperzel locking tuners, and a TonePros locking TOM bridge with string-thru-body design.
The M-III takes a high-class approach to high-performance guitars. Available in a solid Sapphire Black Metallic finish, and a Copper Sunburst or Tea Sunburst finish that highlights their flamed maple tops, the M-III is built one at a time by ESP USA's experienced luthiers. Each guitar is designed for the best of both worlds in feel and sound, as well incomparable design that include natural masked body binding and the highest grade figured top on an alder body. Offering a three-pickup H/S/S design, the M-III also offers excellent tone variety with either two Seymour Duncan STK-S4 stacked single-coil pickups and a raging Seymour Duncan Custom Shop '78 humbucker in the bridge or two EMG X-Series SA-X single coils with a blistering EMG 81X humbucker in the bridge. Like the rest of the USA Series, the M-III never overlooks details like its Schaller Security Lock strap buttons, wheel truss rod adjustment and Original Floyd Rose locking tremolo system.
Особенности конструкции
Set-thru smooth heel construction
Set-thru smooth heel construction
EMG MetalWorks pickups
EMG MetalWorks pickups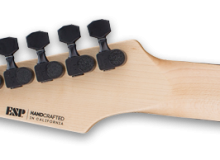 Quartersawn maple necks
Quartersawn maple necks
Sperzel locking tuners
Sperzel locking tuners
Unique split-flag mother of pearl inlays
Unique split-flag mother of pearl inlays
Natural masked body binding
Natural masked body binding
Wheel truss rod adjustment
Wheel truss rod adjustment
ESP battery box (EMG Models)
ESP battery box (EMG Models)
Seymour Duncan Custom Shop bridge pickup (M-III)
Seymour Duncan Custom Shop bridge pickup (M-III)